Dance Parties
Each month the entire staff and student body gather to share an evening of food, fun and dancing! Everyone is invited to bring a dish to share and dance the night away.  Dinner is 7-7:30 , then we begin the dance from 7:30-9:00.
A large selection of music is played so dancers can practice their favorite dances and experience new ones. We change partners at the end of every song so members get to practice dancing with instructors, partners and other members.
Dance parties are an excellent way to practice before going out dancing at local venues or big events.  It helps dancers identify strengths and weaknesses in their dancing that may be hard to note on a lesson or group class as well as gaining experience leading and following a variety of partners.  Additionally, it is great exercise and a chance to meet new people.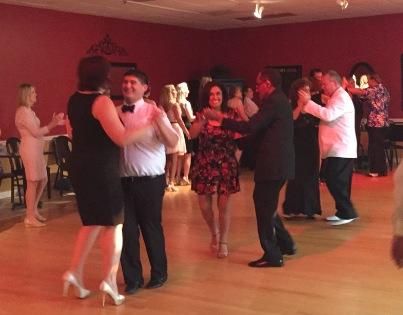 Join the Fun
Our Monthly Dance Parties are Free to attend for our members and a guest.
All other Guest are welcome to attend a Dance Party for only $12.00