Group Classes
A great chance to learn and practice with a variety of partners.
No Partner Necessary
Group Classes
Meeting new people and getting practice leading and following different partners while guided by an expert instructor is a fun way to develop your favorite dances or learn new ones!
Students are introduced to a new step or technique, learn their part then dance the material with a partner and change partners throughout the class.
Whether you are brand new or experienced, group classes offer everyone a chance to learn and practice with a variety of partners.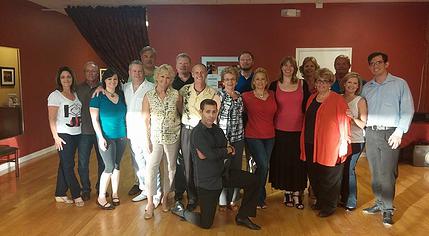 Our Group Class Offerings
Monday through Thursday
Different Classes Every Month
Taught by our Professional Instructors
Members Free to Attend
First Time Guest Free
Returning Guest $12
2nd and 4th Fridays of the Month
8:00-Midnight
Group Lesson 8:00-8:45 PM
Devotional 8:45-9:00 PM
General Dancing and Refreshments 9-midnight
$10 or $5 with student ID or military ID
Fresh Take on Fridays is a friendly and conservative alternative to your average Friday night options. That said, there is no alcohol served at this event, but light snacks are provided.
Also, 10% of what is collected at the door (plus extra donations) are going toward missions.
Visit: Fresh Take on Facebook
3rd Saturday of the Month
Join us at Monarch Studio for an awesome Latin Night with good A/C to stay cool! Bachata, Salsa, Kizomba, and some Merengue and Cha-Cha! Dress sexy and come shake your booty!
9:00 p.m.-2:00a.m. $8 admission or $5 with military ID
Visit: Jax Caliente on Facebook
Sunday's at Monarch Ballroom
Argentine Tango with Barbara Warren
7:00 Intermediate Class
8:00 Fundamentals of Tango
$10/class
Second Saturday of the Month
Country & Swing Dance!
Doors open at 6:30 pm
Lesson 7:00 – 8:00
Open Dancing 8:00 – 12:00 midnight
Cost: $ 10 Lesson and Dance
$ 8 Dance Only (entry after 8:00)
*cash only please*
Join UCWDC Champion and Certified Judge Stuart Palmer for a Country Two Step Lesson and stay for a fun night of Country Two Step and *Contemporary* West Coast Swing dancing with a little bit of everything else in the mix (Cha, Waltz, Line, etc.).
We will start with beginner basics to get you moving and then add some fun moves to get you dancing! No experience necessary and no partner necessary. We will rotate during the lesson and do a mixer after. Come learn this must-know Country dance and have fun meeting some new friends!!
This is an all ages dance. Bring a snack to share if you like and BYOB soft drinks and cocktails.